A disastrous fire at the Hazelwood coal mine in 2014, and subsequent government inquiries, revealed the inequalities and disadvantage experienced by communities in the Latrobe Valley. Following the inquiry, the Victorian Government implemented a place-based approach to support people's health and wellbeing, particularly the Latrobe Valley's youth. In December 2019, a six-month project culminated in the inaugural Latrobe Youth Film Festival Red Carpet event. The Latrobe Youth Film Festival project is a collaboration between Latrobe Youth Space, We Are Latrobe and the Victorian Government Department of Health and Human Services Latrobe Health Innovation Zone team. The project's primary aim was to promote the voice of young people in matters that are important to them. This paper outlines the development and implementation of the project.
---
Introduction
In February 2014, the Hazelwood open-cut coal mine in the Latrobe Valley, 150 kms east of Melbourne, was set alight as a result of embers from nearby bushfires. The eastern and south-eastern batters of the mine as well as the floor were on fire and more than 7000 fire services personnel from across Australia fought the blaze for 45 days. Finally, on 25 March 2014, the fire was officially declared extinguished (Teague, Catford & Petering 2014). During the fire, a significant amount of ash was produced that caused physical and mental-health issues for surrounding communities. These issues arose while the mine fire burned and remained during the subsequent investigation and inquiries. In response, the Hazelwood Mine Fire Inquiry 2015–16 (Teague, Catford & Roper 2016) recommended that the Victorian Government must work differently with Latrobe Valley communities to address these issues. Importantly, the Inquiry highlighted the need to involve communities in decisions to enhance their long-term health and wellbeing and re-establish the lost trust between residents and government officials. In response, Latrobe City was designated a Health Innovation Zone by the Victorian Government. The Latrobe Health Innovation Zone is the first of its kind in Australia. It has two key structures being the Latrobe Health Assembly (Assembly) and the Latrobe Health Advocate (Advocate). Together with the Assembly and Advocate, the Latrobe Health Innovation Zone creates opportunities for community members to voice their aspirations in the planning and delivering of better health and wellbeing outcomes.1
Good health and wellbeing are not only important for people to live full and active lives, they are also critical factors in enhancing people's resilience. At the Third UN World Conference on Disaster Risk Reduction in Sendai, Japan, the World Health Organization outlined that 'Health and disaster risk reduction are deeply connected; healthy people are resilient people and resilient people recover more quickly from disasters' (UN News 2015). The results of the conference and the subsequent Sendai Framework for Disaster Risk Reduction 2015–2030 (UNDRR 2015) led to a much greater focus on people's health and wellbeing in disaster risk reduction compared to that of the Hyogo Framework for Action 2005–2015 (Aitsi-Selmi et al. 2015). It is therefore not surprising that Cutter (2016), through a review of existing tools used to assess community resilience, revealed human health to be a key measurement category.
To these ends, this paper outlines the development and implementation of the Latrobe Youth Film Festival project. The project was conducted to improve the health opportunities for youth in the Latrobe Valley and provide policy makers with youth perspectives. The project may also guide people wanting to develop similar youth-focused participatory film projects.
Project purpose
Recognising the important role that young people have in communities, the Latrobe Health Innovation Zone established the Latrobe Youth Film Festival project with aims to:
promote young people's voices in matters that are important to them
raise awareness about health and wellbeing opportunities in the Latrobe Valley
strengthen young people's confidence in advocating for social change.
The project was not established as a research undertaking. Rather, it draws on participatory video methodologies as described by Haynes and Tanner (2015) as a tool to develop a youth-led, adult-guided program through Latrobe Youth Space.2 Participatory video projects are designed to empower youth in research and advocacy and promote the voices of young people in policy debates; an area where they are often not heard. This aligns with the Convention on the Rights of the Child (United Nations 1989) in that children have valuable knowledge and ideas, they have the right to share their knowledge and ideas and be involved in decisions that affect them. Through participatory video projects, young people can gain greater knowledge and awareness of issues as well as increased confidence in questioning policy makers on underlying social causes and possible solutions (Haynes & Tanner 2015). To achieve this, a critical component of the project was linking in with and creating dialogue between youth groups and health and wellbeing advocates, practitioners and professionals (i.e. the Assembly, Advocate and others working within the Latrobe Health Innovation Zone). Furthermore, by engaging and supporting Latrobe Valley youth in developing short films on their interpretations of what health and wellbeing means to them, the filmmaking process provided a clear, accessible and entertaining way to communicate improvement opportunities. The findings of Haynes and Tanner (2015) that youth styles in creating participatory films are 'emotional, credible, reliable and encouraging' (p.367) have significant potential to drive social change. However, it is not only the end-product that facilitates social change but also the filmmaking process. Through film creation, showings and community dialogue, policy-makers can gain an in-depth understanding of how young people view critical issues within their communities (Haynes & Tanner 2015).
The process: development and implementation
The project adopted a five-stage approach (Table 1). The description of each stage is not exhaustive and it includes key ingredients for success as viewed by the project team, participants and their families. This anecdotal evidence has been drawn from discussions among the groups during the filmmaking process and Red Carpet event.
Table 1: Latrobe Youth Film Festival project five-stage approach.
Stage
Brief overview 
Garner commitment, develop and refine the project plan

secure support from youth groups and key institutions and agencies
refine and confirm project plan

Develop awareness and upskill, ensure safeguarding protocols are in place

garner understanding of the issues and opportunities youth groups face and see
create dialogue between youth groups and health and wellbeing advocates, professionals and practitioners
youth groups to undergo specialised filmmaking training
ensure participants understand the need for a safe environment and adhere to relevant safety checks

Shape ideas

youth research issues of interest and identify and workshop particular issues that they would like to focus on in their short films

Create content

youth create content through filmmaking and editing

Launch films

hold community screening events in locations around Latrobe Valley

publish films online through all available platforms

Support dialogue

support dialogue between the film makers and decision makers to address the wellbeing concerns raised in the films
Stage 1: Garner commitment, develop and refine the project plan
The festival project was a collaboration between Latrobe Health Innovation Zone and partner organisations. Discussions with We Are Latrobe (the social marketing team positioned with the Assembly) revealed that they and Latrobe Youth Space (a YMCA youth-led, adult-guided initiative for young people) had raised the creation of a youth film festival as a possible, positive experience for youth. This arose at the same time as a recently established Movie and Drama Club at Latrobe Youth Space. Considering this, a project team was developed and a draft plan was created. The draft plan was critiqued and subsequently fully endorsed by the Latrobe Youth Space Youth Governance Committee.3 This was an important step to ensure young people were part of the decision-making process. Without their approval, the project would not have proceeded. To promote a participatory two-way learning process, commitment (in terms of access to health and wellbeing professionals) was also garnered from the Advocate4 and from the Department of Health and Human Services (DHHS).
A call for Expressions of Interest was sent to four local film production studios in early 2019. Local organisations were approached to keep the project in-line with DHHS place-based requirements (DHHS 2018) and to strengthen local partnerships and support local businesses. One of the challenges for responding film producers was their capacity to provide training and resources to a group of (at that stage) unidentified participants. As such, a studio that could offer flexibility in responding to young people's capabilities, interests and schedules was preferred. The successful applicant was Nanoo Nanoo and they were brought into the project team to refine the draft project plan. The team met regularly to ensure the project met its core deliverables while exercising flexibility around structure and timelines based on feedback from the young people participating. This feedback, consisting of written submissions and verbal communication, was collected by a YMCA mentor from Latrobe Youth Space.
The project team agreed that rather than applying strict guidelines around film production, participants would be encouraged to share their personal perspectives particularly around:
what health and wellbeing in the Latrobe Valley means to them
the issues they face and opportunities they see in terms of health and wellbeing
the actions they would like to see to help improve the health and wellbeing in their community.
A critical aspect of Stage 1 is to identify a single coordination point. Due to work commitments, the project team shared responsibilities throughout the project. This caused some confusion in relation to who was taking ownership of what. This role should be clearly defined at the start of the project and maintained throughout.
Stage 2: Develop awareness and upskill, ensure safeguarding protocols are in place
Potential participants were invited to attend a two-hour introductory session using radio, newspaper, social media, flyers and by word-of-mouth. Through the very nature of the Latrobe Youth Space programs (Rainbow Club, young parents group, multicultural street games and study group) and its consortia (Berry Street, Centre for Multicultural Youth, Quantum Support Services, National Disability Condition Officer, The Gathering Place and Victorian Aboriginal Child Care Agency) a wide diversity of young people was invited to participate. The session was hosted by Latrobe Youth Space with DHHS providing context of the project and Nanoo Nanoo leading discussions on filmmaking. During this session, the project team identified the areas of interest relating to filmmaking that would form the six, three-hour training sessions on acting, animation, camera skills, directing, editing and script writing.
The young participants learning the art of acting.
Image: Latrobe Youth Space
A critical part of these training sessions was to ensure each one was a safe environment for participants to ask questions and explore ideas. A 'My Pledge' was signed by participants (and their guardian if they were under 18 years of age) at the start of the project. The group work enabled participants to form friendships and discover each other's talents and areas of interest.
With the acting workshop, the feeling of emotions that we expressed through personal thoughts and experiences while also imagining what they may be like, it felt really good to experience that and its definitely something you can take away and use.
(Jordyn, participant)
Ethics standards were important to ensure all adults had a Working with Children Check and had completed the Australian Childhood Foundation's Safeguarding Children and Young People training course (a critical component of the YMCA Safeguarding Children and Young People Policy). This is also in line with the safeguarding principles of the Convention on the Rights of the Child (United Nations 1989). Adequate time had to be allowed for these checks and measures to be in place. Without them, the project could not proceed as planned.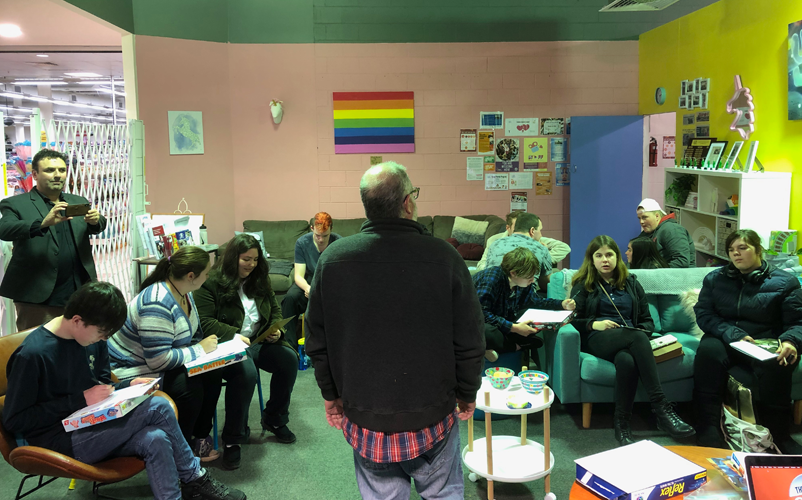 During scriptwriting sessions, participants learnt about character- and action-driven stories, motivations, obstacles and artistic methods of script writing.
Image: Latrobe Youth Space
Stage 3: Shape ideas
Although ideas shaping is listed as Stage 3, participants had begun shaping ideas at the announcement of the project, or even in the months before. Throughout the project, participants continually explored their topics of interest by researching and bouncing ideas off their peers and the project team as well as accessing information from health and wellbeing advocates and professionals. This was an important step as it encouraged participants to think holistically about the issues they wanted to focus on. Flicker and colleagues (2008) note that the process of holistically envisaging better health outcomes can have a far greater impact on young people than singular health-prevention strategies alone. This is achieved through greater learning, where young people identify the key issues they would like to prioritise for investigation, debate these issues with their peers and undertake further research to solidify the message they would like to communicate through their films (Haynes & Tanner 2015).
While peer-to-peer support was evident during group discussions, participants did not request access to other service providers (e.g. Headspace). Rather, they chose to draw from their own experiences, debate these issues with each other and conduct their own research. However, the project team was on hand to provide guidance as needed. This maintained the project's youth-led, adult-guided approach.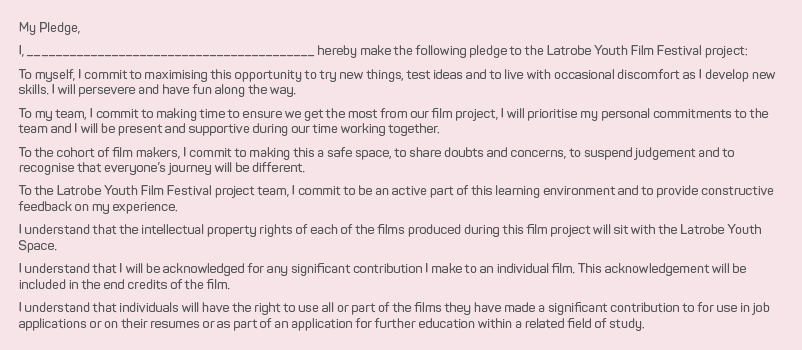 The 'My Pledge' was signed by participants at the start of the project.
Source: 'My Pledge' was modelled off that used by the States of Change program (Barling-Luke 2019)