The Resilient Australia Awards are always characterised by collaboration. The program responds to the principle of shared responsibility, enshrined in the National Strategy for Disaster Resilience. In the 2018 program, that theme of collaboration emerged particularly through knowledge exchange. Submissions selected as national finalists brought diverse groups of stakeholders to the table; supporting nuanced, multi-faceted approaches to resilience-building that engaged whole communities.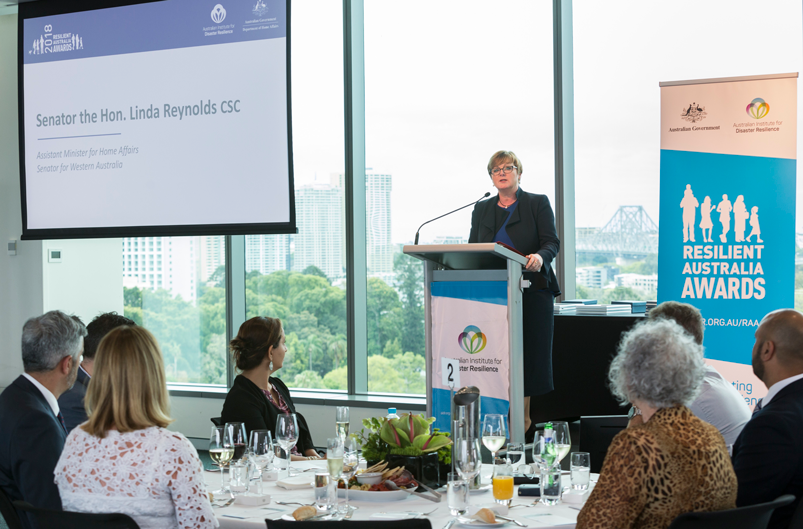 Senator the Hon Linda Reynolds CSC, Assistant Minister for Home Affairs addresses the national award ceremony audience. Image: Australian Institute for Disaster Resilience.
Queensland: My Resilient Community project
The Resilient Australia National Award was won by the My Resilient Community project; a partnership between Queensland Fire and Emergency Services, Queensland Police Service and Moreton Bay Regional Council.
The project puts community at the centre from the get-go; establishing community teams to drive implementation and own resilience strategies. The program recognised the importance of community selfreliance in a context of more frequent, severe disasters – where the response capacity of government and emergency services may not always meet the demand.
The project's community engagement approach uses a range of channels to gather input from the community; from risk identification through to evaluation of solutions.
Project co-founder, Julia Cook, said, 'What makes it so effective is that we design the strategies according to the individual needs of the community.'
The project has achieved cross-sector support in three pilot communities; Moreton Island, Beachmere and Mount Nebo. Not only were community members actively involved, the project has fostered greater cooperation among agencies and other organisations. Numerous outputs have been jointly resourced and developed by multiple organisations.