The Australian Emergency Management Knowledge Hub
AEMI
---
Article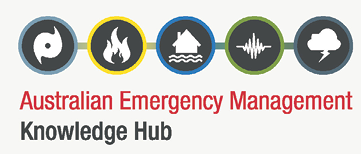 This innovative new online resource, developed by Emergency Management Australia, through the Australian Emergency Management Institute, provides emergency management practitioners, researchers, educators, policy makers and the general public access to:
a research clearing house
an historical disaster event database
a case study library
a multimedia library
cross-sectoral discussion forums
new media collaboration tools
blogs.
The Knowledge Hub is a virtual and an actual knowledge environment and includes access to resources in the Australian Emergency Management Library. The Knowledge Hub provides ready access to evidence-based research leading to:
enhanced decision making
improved policy development
a cycle of continuous improvement for the emergency management sector.
The Knowledge Hub is continually updated and informed by feedback, resources and ideas from users.
Visit: www.emknowledge.gov.au
Contact: emknowledge@ag.gov.au
Join: Twitter @AEMKH
Building a disaster resilient Australia