EM Online: Natural Hazards Center Library, University of Colorado
AIDR
---
Article
The Natural Hazards Center Library at the University of Colorado in the U.S.A. is a collection of hazards resources about how society copes with natural hazards and catastrophic events. The library currently has over 40,000 items covering topics of climate change, terrorism, emergency management, biographies of pioneers in earthquake research, and much more. The collection contains a wide spectrum of information for researchers and practitioners.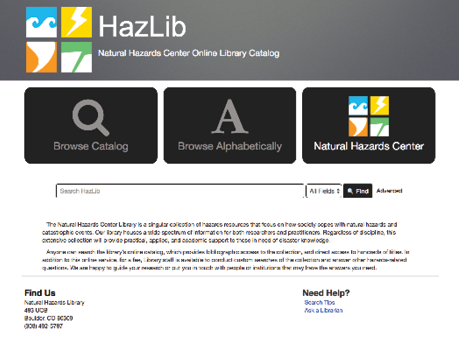 HazLib is the new library catalogue that was launched in November 2015. It contains many new features that give users more options and navigation to access the holdings is easier. Among the new features are improved search options for multifaceted searching and users can customise results based on author, topic, and other elements. Along with the ability to save, cite and export search results, HazLib can serve full-text copies of certain documents.
Developers are still in the process of populating HazLib. If users are unable to find what they're looking for they can click on the Ask a Librarian link and easily connect with library staff who can help to find a particular resource, answer research questions, conduct fee-based customised catalogue searches or connect users with disaster experts.