Volunteer Leadership Program
Leadership demands innovation, creativity, negotiation, improvisation and strategic vision. The Volunteer Leadership Program (VLP) enhances volunteer skills in leadership and organisational management. The program builds individual and organisational capability and promotes collaboration and innovation in our organisations.
Roger's story: I was empowered
'I've been with the Australian Red Cross as an emergency services volunteer since 2006. I retired in 2003 after 25 years with the Northern Territory Police. 
'I've done a lot of training with the Australian Red Cross, and I've been deployed to the Bundaberg floods. When I was deployed to the floods I noticed people there in leadership roles who probably shouldn't have been. It wasn't their fault; they were just thrown into those roles but it created problems in the organisation they were with at the time. I thought it would be good to go along to a Volunteer Leadership Program to update my skills and make sure I wasn't getting left behind; and to share with others what I'd done and observed.'
'The world is changing all the time – you have to keep up to date with progress and make sure your education stays abreast of all the changes.'
'The program was really enjoyable. There was a diverse group, both in age and occupation. Because I'm at the older end of the spectrum, it was helpful to have the young people come on board and share some of the skills they had. You need to be aware of how people think and feel differently.
'What I learnt at the VLP was useful. I used to work long hours as a police officer and I knew the effect that had on my body, but the course taught me more about the different effects of adrenalin and cortisol. I also learnt about Tuckman's stages of group development. I recognised them because I'd been in those situations. 
'When I saw it written down on paper, it was enlightening. I knew the process but I didn't know somebody had mapped it out.'
'Some of the skills I have now will hopefully come into practice in the future. At the moment I'm all trained up with nowhere to go. But when the time does come, you'll need your training.'
'Volunteer leadership is something that needs to be addressed, and I'm glad somebody's doing something about it.'
'If you don't recognise the situation you're in, and you haven't been put in that situation before because you haven't had the training, you are at a disadvantage.' 
Emergency Management Volunteer Scholarships 
The Australian Government established a million-dollar scholarship fund to equip volunteers with the skills and leadership required in the emergency and disaster management sector. Volunteers were able to access financial support to access accredited vocational and higher education qualifications in emergency and disaster management fields. This scholarship program has now concluded. 
Willow's story: Combining private sector experience with volunteering and study
Willow had been working in the private sector for more than 30 years when change beckoned. 'I worked at very senior levels in companies for a very long time around major business transformation and strategic planning.'
'I look at the long-term but also operationalise it and make it happen.'
'The thing that concerned me was that there was such robust change happening that my understanding of some of the practical issues around sustainability was not as deep as it needed to be. I was too grounded in past practice and living in the business world rather than stepping out and understanding the role of the government sector as well as the private sector in disaster risk reduction and sustainable development.'
A career break and a chance encounter at a community forum led her to enrol in a Master of Disaster Resilience and Sustainable Development at the University of Newcastle. 'I was sitting with a friend in a community forum, and an ad came up that ran through the [UN-certified] course at the University of Newcastle. That appealed to me as it reflects the view of what is one of the most respected and far-reaching bodies looking at these issues globally. I signed up straight away and three weeks later I started the course.'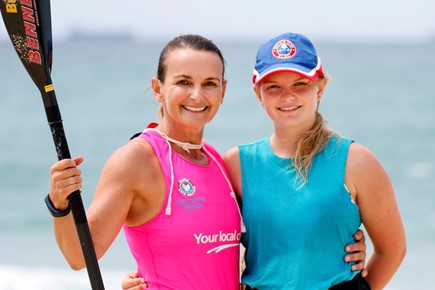 As a volunteer with Surf Life Saving Australia, Willow was eligible to apply for funding through the Emergency Management Volunteer Scholarships, administered by the Australian Institute for Disaster Resilience. A successful recipient, Willow is putting her masters into practice at Stockton Surf Life Saving Club, integrated with her private sector experience.
'You can build community resilience through linking social capital.'
'At my local surf club, I'm rolling out strategic transformation because the club didn't have any of the capability to deliver on that, in terms of a community resilience perspective. It's about building stronger ties between various organisations within your society from government, through to private sector to community bodies. That's important in time of disaster, both for preparation and recovery. Communities that have strong social capital have a much better chance at recovery.'
Willow's study is also opening doors to new career opportunities in local government. 'With my previous background, that wouldn't have been available to me. I'm interested in working with local government which has the responsibility for disaster risk management but can be constrained by state government governance around disaster risk. With my degree, it opens up a space for me to contribute meaningfully to local organisations.'
'This study has given me a strong foundation and the confidence for which I could say look, this is what the research says, this is what practice says...that means you can influence people and get action and engagement much faster.'
Willow is enthusiastic about the growing synergies between her study, volunteering and career. 'The past two years have been an extraordinary process of learning and grappling with a huge amount of research and practice.'  
More about Willow:
University of Newcastle: A sustainable career change for disaster resilience graduate
Kath's story: Volunteering is part of a well-balanced life
Kath Cooney has been a volunteer with the Australian Red Cross since 2006. For her, volunteering is just part of a 'healthy, well-balanced life.' As a trainer for the Red Cross in Victoria, she's also been involved with several activations – from outreach after Black Saturday to supporting visitors with psychological first aid after the Bourke Street tragedy.
'It's great to be able to have a way of responding to disasters. Instead of saying 'That's terrible, I wish I could do something' and only being able to give money, I can actually get involved. I feel very grateful.' 
Her real joy lies in supporting other volunteers with world-class training.
'I really enjoy working with other volunteers especially the rural and regional people. They're so grateful that people are coming in offering them high quality training and they're all very serious about their volunteer work, so it's great to be able to support them.'
With her interest in emergency management and strong volunteering background, Cooney applied for a volunteer scholarship with AIDR in 2017. She's now completing a Master of Emergency Management at Charles Sturt University, via distance education.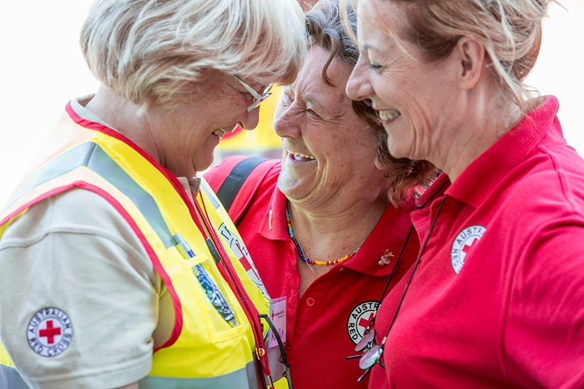 'I've been very interested in emergency management for a long time. I'm 61 – although I won't use this in a future career, I still see myself volunteering when I'm retired. I'm going to grow up to be an eighty-year-old Divisional Operations Officer with Red Cross!'
What Cooney wanted out of her study was a broad background in the sector that could further support her volunteer work. 'I'm really interested in spontaneous volunteers and diverse models of volunteering. I now feel like I'm getting a good understanding of that to be able to help Red Cross do even better with it.'
The study has also brought increased confidence, and a greater passion for emergency management work. 'With the knowledge I'm gaining, I can bring a greater depth of understanding to my volunteer role...I feel much more confident that I am up to date with the latest research and trends.
'

You can read and research autonomously, but with formal study, you're directed through to the latest developments with the industry.'

As for managing full-time work, part-time study and her current volunteer work, Cooney says she has no regrets. 'I'm studying because it's fabulous, and I'm interested in it. How that fits with my career and volunteer role, I can figure out later.'
'I'd advise any other volunteers that this is a great opportunity, jump in and have a look at it. Studying adds a lot to your life and that's part of a well-balanced life too! I feel very lucky.'

Kira's story: Supported to make the right decisions
Marine Rescue NSW volunteer Kira Hartland says new doors in emergency services leadership have opened for her since completing her studies at Charles Sturt University.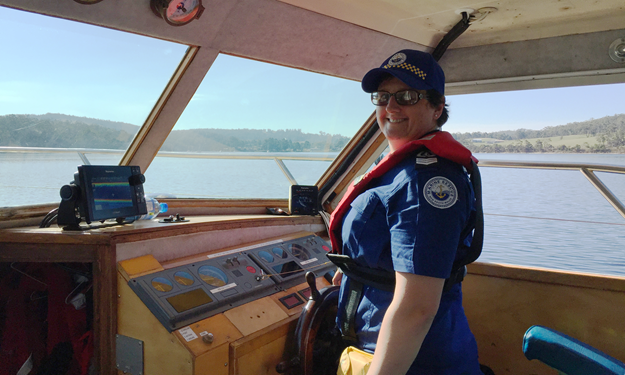 While undertaking the Bachelor of Emergency Management, supported by the Emergency Management Volunteer Scholarship, Kira put her new skills and knowledge into action by taking on the position of Unit Commander within her organisation.
'It has been a fascinating journey studying the Bachelor of Emergency Management with the support of the scholarship.'
In her new role, Kira is responsible for making decisions for her team every day. Depending on the circumstances, Kira leads her team in everything ranging from incident response or control, to middle government and industry negotiations.
Kira says studying was a fascinating journey and now feels supported to make the right decisions in her role. As a Unit Commander, she can feel the benefit of the knowledge acquired from every aspect of her course work. 
Kylie's story: Personal growth in public safety
As a volunteer firefighter with the NSW Rural Fire Service, Kylie Ledger has seen firsthand how community resilience can carry people through tough times.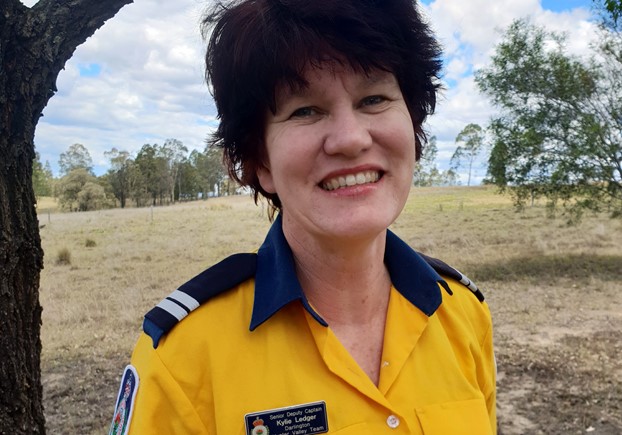 Recognising the importance of resilience and community connection, Kylie chose to further her knowledge by undertaking a Master of Disaster Resilience and Sustainable Development at the University of Newcastle, supported by an Emergency Management Volunteer Scholarship.
'The goal with my studies is to be able to continue to develop these pathways of resilience and sustainability now and into the future.'
With 15 years of volunteering experience behind her, Kylie is currently the Senior Deputy Captain of Darlington Rural Fire Brigade in Singleton, in the NSW Hunter Valley. Sharing knowledge is a big part of Kylie's work, as she supports others through community engagement, the high school cadet program and in her role as the current trainer and assessor of her district.
'I enjoy both the physical and mental challenge of being a fire fighter, but also the enjoyment and satisfaction of working with my fellow volunteers and with the community, encouraging younger people as well as girls and women to achieve their goals.'
Kylie can apply her skills developed during her studies to the many other areas of public safety she contributes to. She passes on her fire and safety skills to others as a casual trainer for the NSW Rural Fire Service, Australian Red Cross and Alsco, where she is responsible for teaching fire warden roles, fire safety and awareness, firefighting and first aid. 
Cheryl's story: Looking at the big picture of emergency management
Volunteer lifesaver Cheryl McCarthy keeps coastal communities and visitors safe as Director of Lifesaving for the Far South Coast branch of Surf Lifesaving NSW. In this role, she is responsible for supporting seven clubs along the coast in their frontline lifesaving operations and patrols.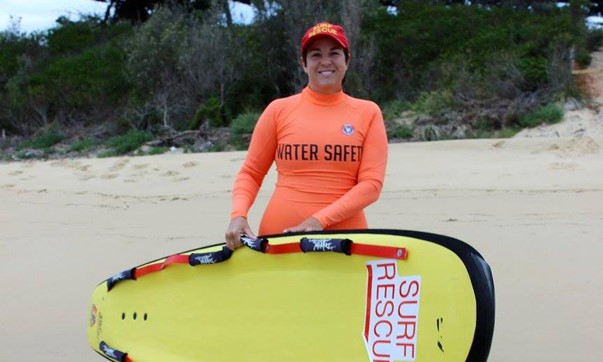 Cheryl decided to further her knowledge in her volunteer field by undertaking a Advanced Diploma of Public Safety (Emergency Management) at ACIM Solutions, supported by the Emergency Management Volunteer Scholarship.
'I've gained a much broader knowledge of the big picture in terms of emergency management and responses. This has helped me to be more strategic and proactive in my own role rather than just reacting to situations as they arise.'
Cheryl is also responsible for Branch support operations, which includes 10 Duty Officers who manage emergency call out responses. This involves search and rescue operations and maintaining strong relationships with various other agencies.
'I've found the study to be really enjoyable and it's made me think closely about how and why I do things in my volunteer role. I've particularly enjoyed learning more about multi-agency responses and considering the roles of other agencies rather than just my own area of responsibility.'
Cheryl was inspired to undertake her studies to learn more about emergency management and the different tools and strategies she could apply to be more successful in her volunteer role.
'Due to my current circumstances I'm confident I wouldn't have been able to undertake the study financially if it wasn't for the support of the scholarship. As a result of the scholarship program, both myself and my organisation have benefitted from my increased skills and knowledge.' 
Ann's story: Developing skills for the wellbeing of others
Ann O'Donovan has contributed over 25 years of volunteer service to the NSW State Emergency Service in the Ku-ring-gai Unit of Northern Sydney.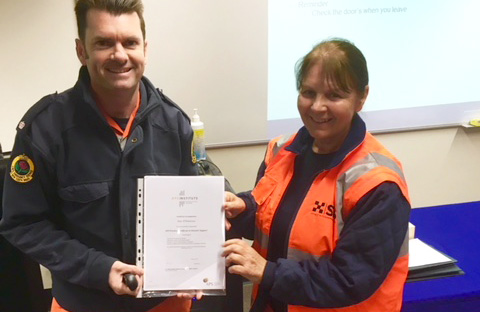 Over the last 10 years, Ann has also played an important role in the NSW SES Peer Support team, responsible for assisting fellow volunteers and members of the public work through the psychological impacts of facing challenging or distressing events.
'Increasing interest in disaster resilience led me to explore courses which could help with my knowledge in this field.'
To better equip herself to provide counselling to people in need, Ann enrolled in the Crisis Supported Workplace Training offered by Lifeline. She was supported in her studies by the Emergency Management Volunteer Scholarship.
'We respond to disasters in the local community such as bush fires, floods, road crash rescue, searches, and inevitably, we have to deal with distressed people. Having completed the course, I now feel more capable when dealing with numerous traumas faced by those involved in critical incidents.'
Since successfully completing her studies, Ann says the skills developed in doing this course continue to be invaluable in her Peer Support work with the State Emergency Service and with the general public. The course allowed her to build her own confidence while developing the skills necessary to support someone in their moment of need and to be able to refer them to the appropriate support.
'The course was challenging, but extremely interesting, especially as I could use the skills in my volunteer work as Peer Support with the State Emergency Service. The Scholarship Program contributed to my successfully completing this course of study.'
Having completed the course, Ann now feel more capable when dealing with numerous traumas faced by those involved in critical incidents.