The easiest way to find information in the Knowledge Hub is to use the search function.
You will find the Search Bar on the top of every page of the website.  Once you see the initial search results, there is a box on the right-hand side of the screen that will allow you to refine your search using one or more of the search parameters.
Alternately, if you are looking for a specific disaster, you can use the Mapper to locate the event that you are looking for.  Information on how to use this search feature can be found in the 'Using the Mapper' guide in this collection.
To demonstrate how the search and refine function works, we will undertake a search for information on flooding in Sydney.
Starting your search
Using the search box, search for 'Sydney', and leave the Collection drop-down box set to 'All Collections. 

Press enter, or click on the search icon.
Note:
If you set the Collections Box to 'Disaster Events', you will see all information on actual flood events in Sydney, but will miss other information about flooding in Sydney, including articles in the 'Australian Journal of Emergency Management', 'Case studies and Stories' and 'Research' Collections.
In the Refine box on the right hand side of the screen, you will see the list of criteria that can be used to refine your search.  The first criterion can be used to reduce the number of disaster types that will be displayed.  The number in brackets next to the disaster type shows the number of resources in the collection matching that disaster type.
To refine the search to only include Floods that were Disaster events in Australia:
Firstly, deselect all other disaster types., leaving only 'Flood' selected; and then
Scroll down to the Collections Box and select 'Australian Disasters'

You can further refine the search using the Dates field to set start and end years for your search.  If we select the start date of 1990 and end date of 2000, the search is narrowed down to only show events that occurred in that time period.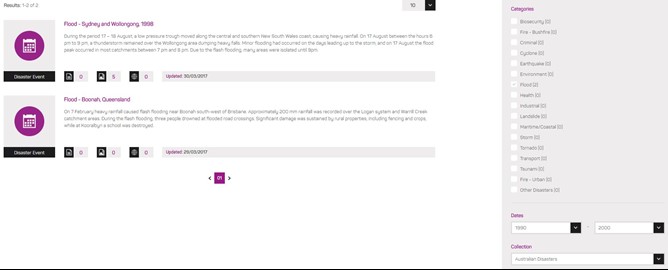 For further help, contact us.