Before, during and after emergency events and disasters, local government employees are often at the frontline and play a significant role in coordination and communication for their communities. In Queensland, the Disaster Management Officer's Network allows these people to connect, keep up with developments in disaster management arrangements and to share their skills, knowledge, resources and ideas.
Disaster Management Officers (DMOs) are, in many cases, stand-alone employees within councils and face significant challenges and limitations in being able to meet the needs of their communities. Some councils have full-time, permanent DMO capacity, but most do not.
The Office of the Inspector-General Emergency Management co-designed the Disaster Management Officer's Network in collaboration with DMOs. Creating a community-of-practice where practitioners support each other in delivering world-class disaster management services and identifying and implementing best practice. The DMO Network is the first state-wide, peer-driven network of DMOs from local governments in Australia. Its success is based on its genuine intent and the authentic engagement of DMOs in its development and implementation.
The network operates through regular virtual meetings and a secure online discussion and repository platform. There is also a three-day, face-to-face forum held each year. Network members are disaster management staff, local disaster coordinators and chief executive officers from the majority of 77 local councils from across Queensland.
The value of the DMO Network has seen membership and outputs boom since its commencement in 2016. In February 2019, the network comprised 98 registered members from 55 councils (70 per cent of all local councils in Queensland) and boasts more than 370 years of combined emergency management experience.
Ready access to this collective knowledge supports DMOs in further promoting a sense of shared responsibility within their councils, local disaster management group, stakeholders and local communities.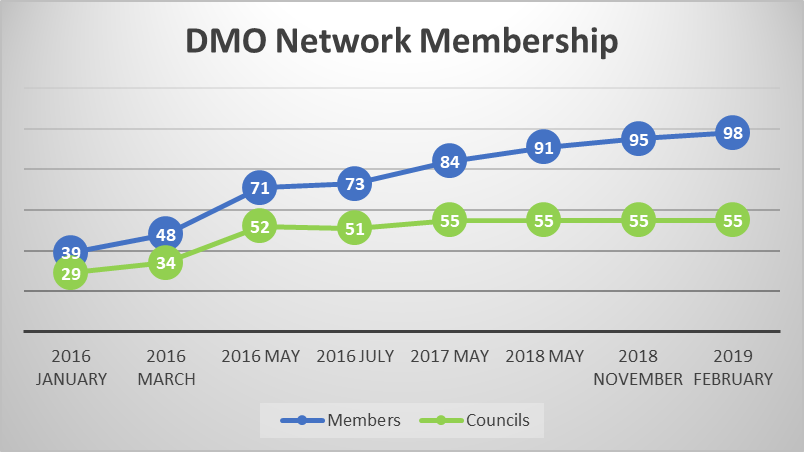 Figure 1: DMO Network membership growth.
At DMO Network forums, members identified four themes that help them effectively influence stakeholders and engage better with their communities:
The future of disaster management: the role as influencer identifies the drivers of disaster management and ways to influence decision-makers in councils, communities and within the emergency management sector, using an evidence-based approach of research that generates trustworthy data.
Capitalising on capability: empowering and enabling identifies the varied capacities across councils, how DMOs and councils support each other and ways to improve collaboration for shared responsibilities as outlined in the Standard for Disaster Management in Queensland.1
Stakeholder engagement: recipes for success identifies ways to involve and mobilise local disaster management groups to build community resilience before, during and after events.
Mobilising community: collaborating and empowering through partnership identifies ways to entrench disaster management practice within communities and create a whole-of-community approach. The DMO Network has provided benefit beyond local practitioners to councils, communities and the emergency management sector by:

strengthening relationships between councils creating skills and knowledge for members
sharing valuable information and resources
helping DMOs achieve important community outcomes as well as address commonly experienced issues
giving access to local staff from 55 councils to collaborate on state-wide initiatives.
As disaster management continues to evolve in the contexts of climate changes and geographically, economically and ethnically diverse communities, the DMO Network will be supported and its growth driven by its members with opportunities to link with state agencies and academics.
Footnotes
Standard for Disaster Management in Queensland. At: www.igem.qld.gov.au/assurance-framework/Pages/standard.aspx.